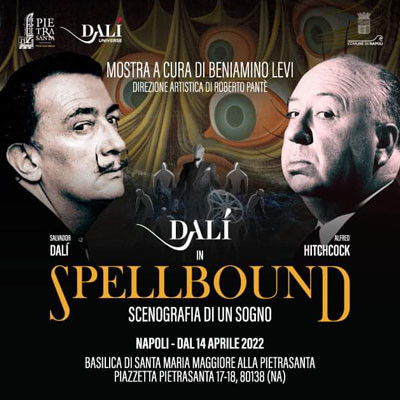 Exhibition : Spellbound, scenografia di un sogno
[
Phantasya Communication (Roberto Panté) in collaboration with "The Dalí Universe" (Beniamino Levi), was responsible for organizing an important exhibition, Premièr Europea, in Naples at the Basilica of Santa Maria Maggiore alla Pietrasanta: Spellbound, scenography by a dream.
The exhibition, which has aroused enormous uproar from the media and a resounding success with the public, focuses on the spectacular scenography that Salvador Dalí created in 1945 for a famous Hichcock film "I will save you"
In this exhibition in which the viewer is accompanied by Dalí's works enriched by multimedia up to the vision of the Spellbound masterpiece, we wanted to create an emotional journey that would bring the public to deal with their own unconscious.
The vernissage which was held on April 13 was marked by moments of art of great emotional impact involving a large audience in an exhibition with a cinematic and multisensory cut.
The evening presented by Veronica Maya alongside Beniamino Levi, president of The Dalí Universe and Roberto Pantè Artistic director of the exhibition, ended with the presence of Marisa Laurito.
In the meantime, the exhibition is already receiving an amazing response, confirmed by numerous newspapers and local and national television stations.