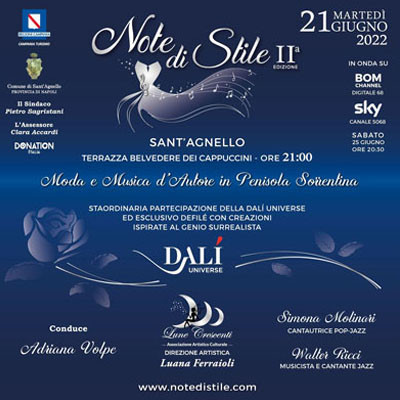 Extraordinary participation of our "Light" exhibition The treasures of the Master at an exceptional event.
On June 21st "Note di Stile" II Ed. Will take place at Terrazza Belvedere dei Cappuccini, under the artistic direction of Luana Ferraioli. Kermesse dedicated to fashion and author music, a live show to be enjoyed in one of the most evocative scenarios of the Divine Coast. For the occasion, the clothes of the "Luce" exhibition I Tesori del Maestro will parade, giving life to an open-air museum on the catwalk. The creative director of the Dalì Universe, Roberto Pante ', will attend the evening, deeming it a unique opportunity to explain the importance of international importance that Dalinian exhibitions cover in the Campania scenario, artistically enhancing the territory. With the conduction entrusted to the showgirl Adriana Volpe and the musical moments for two voices stolen from Jazz, by Walter Ricci and Simona Molinari, the positano fashion moments will alternate with prestigious brands.
The evening will be broadcast on the national network Saturday 25 June at 20.30 channel 68 Dig. Terr. And Sky 5068.